After six years writing and blogging I am now, at last, into the final hurdle of completing a novel. My editorial report is back and it is much better than I expected. There are a few suggestions though. Fundamentally, these are adding extra material to flesh out some of the relationships and in one case to develop one of the more humorous story lines just for the pure entertainment factor. I have decided to follow this advice and to do this by inserting two, possibly three, new chapters which should slip easily into place.Writing more silly stuff for me is comparatively easy so I can now move full steam ahead knowing the end is truly in sight.
For those of you who had read my short stories you'll know that I normally write in the third person but for this novel I have written in the first person in a voice which is actually quite close to my own in that's it very colloquial - although there's not so many expletives as here on my blog. Okay, maybe there's still a few expletives - but it's all in the pursuit of art and in very good taste. Apart from the telephone sex stuff. Which is probably in poor taste. Oh well - what the heck - I enjoyed writing it!
So I shall be hit and miss here on my blog for a few weeks. There are few days left before the end of the school year and then six weeks school holidays so I need to make the most of these last few day of freedom.
On another matter, I am slightly naffed off at our Church fete to find, yet again, that they are selling books at six for a pound. Obviously, an author gets no cut of this anyway but I have to say whilst I have bought many second hand books (usually somewhere between 50p to £1.50) I generally buy authors that I would not have contemplated buying anyway and if I like their writing there is a strong chance I will buy another of their books at the official retail price. In which case it's a win for the charity selling the book, a win for the author who gets a new fan and a win for me to discover a new writer I might otherwise not have found.
So this year at the church fete I bought two plays by a dead author (which didn't make me feel so bad), a novel by a children's author from whom I'd already bought five or six books at the proper retail price (so again I didn't feel so bad) and a book by a chick lit author which I would never have bought anyway and will probably only read if I am ever stuck on a desert island with it. I also bought
Skippy Dies
by by Paul Murray and a hardback copy of
Dear Fatty
by Dawn French. I can't see
Skippy Dies
on my waiting to read shelf but I know I contemplated buying it at one stage - so either it is already submerged somewhere in my hideously messy bookshelves waiting to be read or for some reason I decided not to purchase. I probably wouldn't have bought
Dear Fatty
not because I don't like the lovely and talented Dawn French but simply because I am not into celebrity biographies. I've now decided if I get around to reading
Skippy Dies
and
Dear Fatty
I will write reviews on Amazon so at least the authors gets something in return. We've all heard about success of J.K Rowling and Stephen King and a few other big names but for most writers it's tough trying to make any kind of living. And even though Dawn French is a household name and Paul Murray is a Man Booker and Costa Book Award nominee I think I'd be pretty fed up to find my book for sale for the equivalent of 16 pence. I'd rather it was free and people asked for a voluntary contribution.
Just sayin'.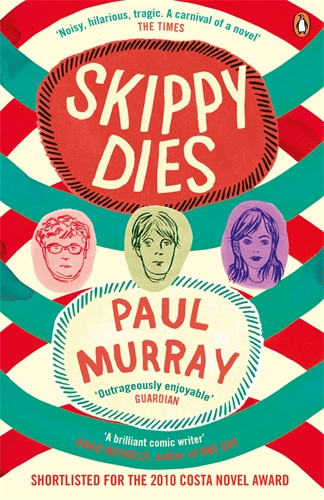 At 660 pages surely worth more than 16 pence.